It's well recognised that hiring a tradesman can be stressful. You won't have to ask many people before finding someone that has a horror story of their own… endless delays, work poorly carried out and eye-watering bills being just some of the complaints.
With a recent survey finding that nearly 95% of homeowners in London feared hiring a tradesman as they were concerned they would be ripped off or work would be carried out poorly we decided to write a number of articles which explain the questions you should ask a tradesman before hiring them.
Continuing this series, today we're taking a look at plumbers, and to help you decide which plumbing firm is the best one to employ, we have pulled together this guide which looks at when you might need a plumber, what to expect in terms of costs and what questions you should consider asking.
When will I need a plumber?
Plumbing forms a core component of any home and a plumber is likely to be a trade you will almost certainly employ at some point in your life. There are two scenarios where you'll be picking up the phone to call a plumber. The first (and hopefully least stressful!) is for routine work, general maintenance and new builds. For example, if you're installing a new bathroom you'll definitely be needing the services of a plumber.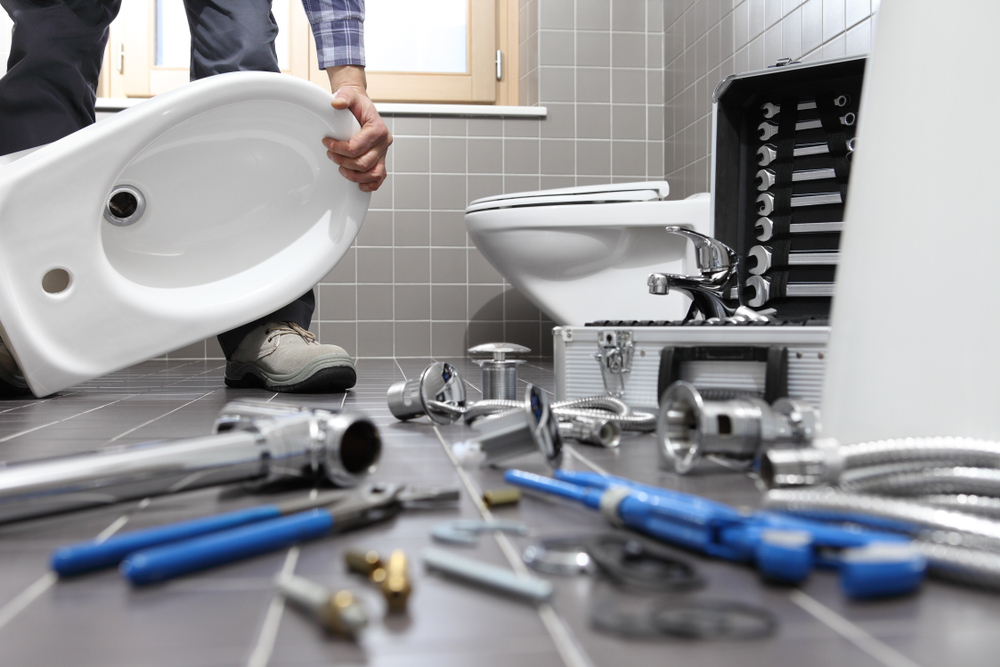 The second, and likely most stressful time you'll also need a plumber is during an emergency… with water potentially fountaining all over the place you'll want a plumber at your house… and fast! Lengthy research won't be an option under these circumstances so it might be worth scoping out a plumbing firm you trust and keeping their number on the fridge door, just in case.
How should I choose a plumber?
The internet is an obvious place to start your search. However, word of mouth recommendations can be invaluable. On the basis many of your friends and family will likely have employed a plumber, the best place to start is by asking them. This will quickly help you identify the good and perhaps even more importantly, the bad!
Where no word-of-mouth recommendations are available you'll need to be careful. When searching online take a good look at the plumbers website. Does it work well? Is it maintained? Are there clear contact details? Next step is to call them. Do they answer the phone promptly and/or return your message quickly? Are they willing to offer advice and do they seem helpful? If not, trust your instincts and keep looking!
What questions should I ask when hiring a plumber?
Are you qualified? Most plumbers will have a Level 2 or Level 3 NVQ plumbing qualification. If they work on unvented heating systems and gas or oil boilers then they require additional qualifications to do so. Whilst qualifications are not necessarily a guarantee of a job well done, they are a useful indicator of competency and in some cases (such as gas work) a legal necessity. You can check out the WaterSafe register to find a local approved plumber in your area at https://www.watersafe.org.uk/ . If you are having Gas work undertaken (such as having your gas boiler serviced) then make sure you search the Gas Safe register at https://www.gassaferegister.co.uk/
Are you insured? Any professional plumber will carry public liability insurance of at least £1million. Check that this cover is in place and if in doubt ask to see a copy of their insurance certificate.
What will work cost? Probably one of the top questions you'll have is 'what is this going to cost me?'. You'll likely be presented with a couple of options… an hourly rate or a fixed price quote. For smaller jobs and emergencies, an hourly rate will be the default. Expect a good plumber to charge around £75/hour during normal working hours with higher rates for out of hours emergency work. It's also worth checking whether fees include things like parking charges. Materials won't be included in an hourly rate so expect to pay for these on top.
Is work guaranteed? It's normal for a guarantee on workmanship to be offered (subject to certain T&C's). A plumber who is confident in their workmanship won't have any problem offering a guarantee. They will want you to be happy with the work that has been done and should make it clear that they are on hand if any problems do occur after they leave.
When is payment required? Depending on whether the work is carried out at an hourly rate or a fixed price contract will in most cases dictate payment schedules. Expect to pay after work has been completed in the case of emergencies and small jobs, whilst a retainer might be required for larger jobs that are offered on a fixed price basis. Run a mile from anyone who asks for 100% payment upfront though!
Will rubbish be cleared at the end of a job? Waste disposal is becoming increasingly expensive and as such plumbers will likely have to pay to dispose of any waste they clear from a job site (including things like packaging). As such, it's important to clarify whether this waste disposal cost is included in their fee or is an additional charge.
Can I have a written quote? The answer to this question should of course be 'Yes'! make sure the quote is detailed and lists materials required for the job.
In summary
A good plumber will never mind being asked a whole range of questions. They recognise there are a lot of sub-standard tradesmen out there and will appreciate you'll be anxious to ensure that you hire only the best. If you feel the response you're getting is unhelpful, hostile or even plain rude then it's quite simple… look elsewhere! There are excellent plumbers who will do a great job for you. The time spent finding them will be well worth it!