Roof windows can transform your home. As well as adding light, they increase ventilation and are aesthetically pleasing, helping to add value to your home. Roof windows are a great addition to certain extensions whilst being an essential component of any loft conversions.
In this guide we're going to look at the types of roof windows available, what fitting them entails and how to choose the right ones for your property.
A Roof Window Overview
Roof windows are typically installed in pitched roofs but can also be added to flat roofs. Because your roof bears the brunt of the weather that is thrown at your house, it's vital they are fitted correctly and of high quality. Roof windows comprise of two parts… the window itself and then a flashing kit which ensures the entire setup remains watertight… obviously an important consideration particularly in the UK!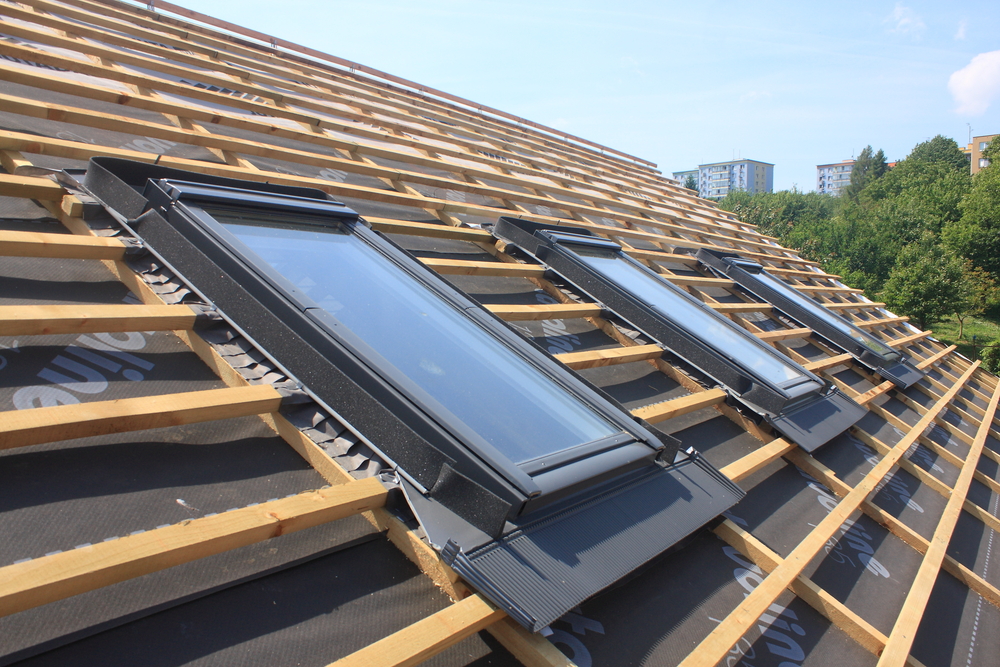 There are several types of flashing kits available including low profile, recessed and conservation style. There are several manufacturers of roof windows but probably the best known is Velux.
Types of Roof Window
There are three main types of roof window that you can choose from. Which one you select will depend on a variety of factors including cost and location for the window.
Fixed Roof Windows – These are, as the name suggests, fixed. In other words they don't open. You would typically choose one of these for hallways or rooms that require light but not any additional ventilation.
Top hung Roof Windows – These are a popular choice and consist of a handle at the base of the window which releases a mechanism to allow the window to swing open upwards from a hinge located at the top of the window.
Centre-pivot Roof Windows – Perhaps one of the most common types of roof window, centre-hung windows pivot on a hinge that is located halfway up the window. This means the bottom half of the window swings up and out whilst the top half drops down into the room.
Advantages of Roof Windows
Roof windows are incredibly popular and for good reason with lots of advantages associated with fitting them including:
Extending the space in your home – Typically roof windows are used to allow light and ventilation into a loft conversion. After all, no one really wants to spend time in a room that has no natural light. Roof windows solve this problem at a stroke.
Increase in natural light – Roof windows allow you to add a window where perhaps previously one was not possible (for example in the roof of a property extension where normal wall-based windows were not allowed).
Improved ventilation – Due to the position of roof windows (typically above you), they can massively improve ventilation. Hot air rises and by installing a roof window in a bathroom (for example) you can create the perfect exit point for moist air whilst allowing fresh air into the property.
Increased property value – By adding a roof window you have increased levels of light and ventilation and potentially added additional living space to your property. All of these things will positively affect the value of your home.
Choosing the Correct Roof Window for your Property
Now the decision has been taken to install a roof window you just need to decide which type will be the most suitable for your home and circumstances. Check out the list of things to consider below:
Roof Type
The type of roof on your home will influence the type of roof window you buy. Depending on the brand, different manufacturers will be able to advise on the suitability of their windows for your roof. Roof Lanterns would be most suitable for flat roofs whilst you can get roof windows that can be installed on pitched roofs where the angle of the roof ranges anything from 15 – 90°.
Roof Window Location
Location, location, location as the old adage goes… it applies to not only property but also the position of your roof window! Factors to consider are numerous but include the direction of the roof… if you have the option of installing on a north facing roof or a south facing roof then south facing is going to be infinitely preferable if you want decent levels of light to enter the room. The layout of the room interior will also play a role… don't end up with a roof window installed in an awkward location. Make sure you design the room layout first before committing to the location for a roof window.
Functionality
You can choose between roof windows that open manually or ones that open electrically. Manual ones are just fine where it's easy to access the window (for example in a loft conversion) but less practical where the roof window is high off the ground. In this instance an electric opening window is all but essential unless you're happy running up and down a ladder each time you want to open it!
There is a lot to consider when choosing roof windows for your property. Ultimately it's well worth speaking with a roof professional before committing to a purchase and, as with most things roof related, it's vital to get a reputable roofing contractor to install them for you. A poorly fitted roof window will leak and also potentially be dangerous so it's not worth the risk cutting corners in this regard.
ER Group offer an extensive range of roofing services. Our fully qualified and insured team work across London. Our clients appreciate the honest advice and high standards we operate to. If you'd like any advice on roof windows then please contact us.